3D Live Pool v2.65
This game simulates pool on your computer with full 3-D environment and perfect 3Dd sound. It features easy and addictive game play,supports 3-Ball,8-Ball,9-Ball,15-Ball,Straight,Rotation,BlackJack and Bonus games. The balls roll just like real ones, and you can position your cue shot to hit at various places on the cue ball for different spins! 3D Live Pool has single and multi-player modes. You can play online or off.
The great internet lobby allows you to play & chat online with others, Improve your ranking and take part in different types of tournaments!

Gamers who like this game may also like:
3D Live Snooker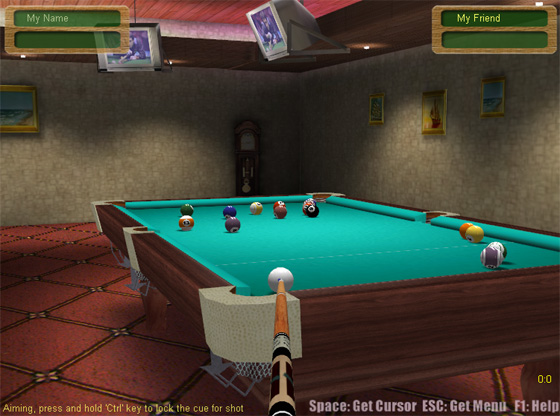 + Free Trial Download (2.05MB)

+ Buy Full Version ($34.95)

+ FAQS

Join our free news letter! (Special Offers,
,New Releases,Tips and Tricks,Contest News...) Please fill out you email address
+ Online Support
a Post a note in our support forum if you experience any problems.
+ Contact us
aaFeel free to send a mail to us, we are glad to hear from you!
+ Comment On This Game
aaDon't forget to give us feedbacks, thank you!
+ Gamers Forum
aaDiscuss etiumsoft's games, including hints, tips, and level solutions with other gamers.